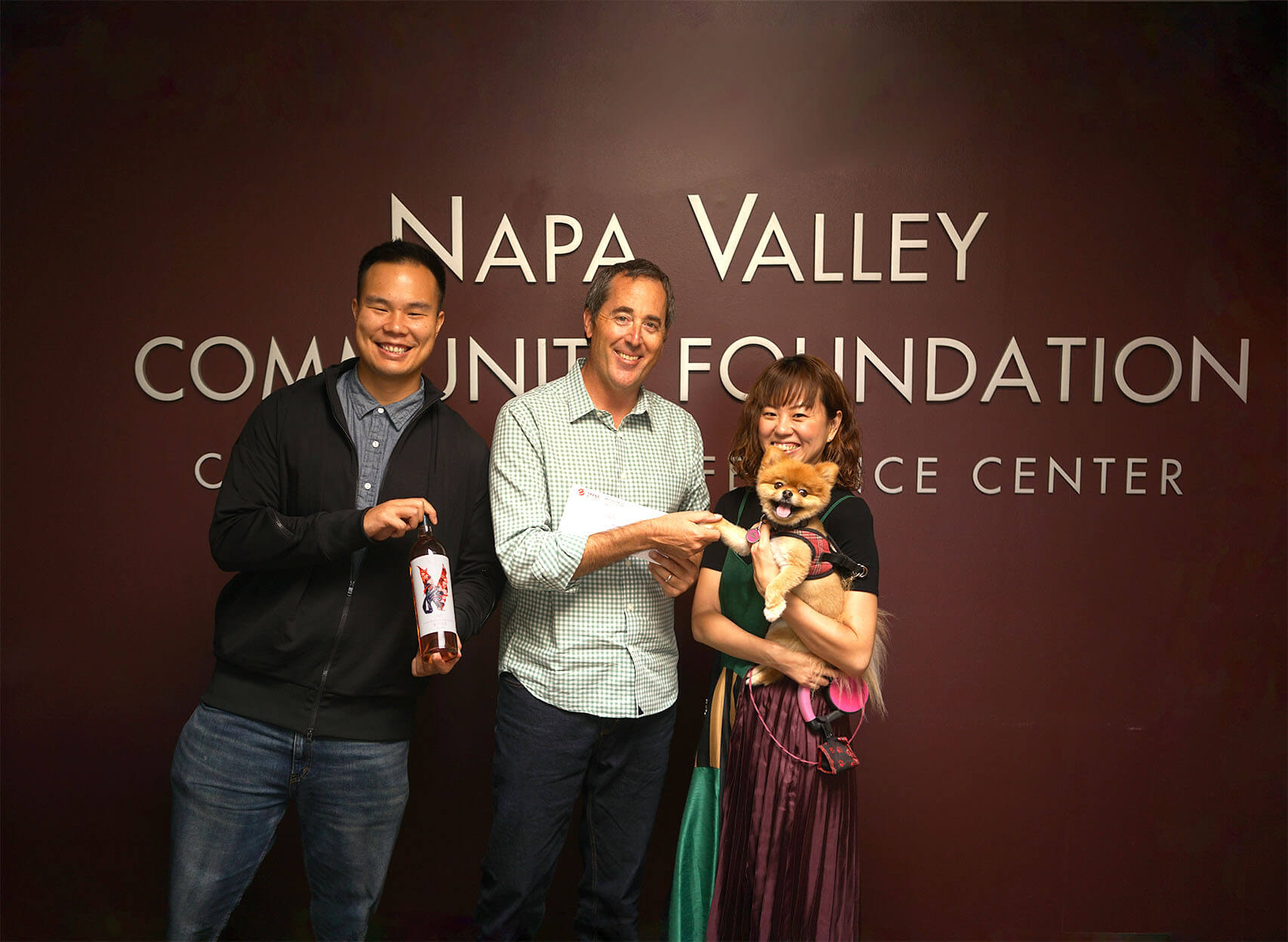 It's been one year since the start of the fires that affected Napa and Sonoma counties so profoundly, a year full of challenges and changes for all of us. As we look back at the past year, we are warmed and strengthened by the sense of community and regrowth that has emerged. We are so thankful and fortunate to have found a new home in such a gracious and welcoming community.
As you may know, we never planned to start our own winery before the fires. However, fate doesn't care about plans, and just months later we founded Kanpai Wines. For our first vintage, we knew that we had to do something to help rebuild our community. Azumi came up with the idea to take our estate Cabernet grapes and create a rosé and donate a portion of the proceeds to wildfire relief efforts. We named our new rosé "Hi No Tori", or "Bird of Fire" in Japanese. In Japan, it is a common practice to fold 1,000 origami cranes as a form of prayer after a natural disaster, while the phoenix symbolizes rebirth in the west. We combined these two symbols to reflect our promise to help rebuild our community.
When we set out to donate $20 for each bottle of Hi No Tori sold, we never could have predicted the outpouring of support. The reception to our new winemaking venture has been absolutely heartwarming and overwhelming. After an amazing journey of learning and new experiences, we are so happy to announce that we have sold out of Hi No Tori roseé and reached our fundraising goal. Thanks to the support of everyone in the US, Japan, and Taiwan, this means that we were able to donate a total of $141,600 to the Napa Community Foundation, the Sonoma County Resilience Fund, the Ventura County Community Disaster Relief Fund, and the Santa Barbara Foundation Community Disaster Relief Fund. Thanks to all of you, we are able to give back to our communities and help rebuild.
We want to thank everyone that helped us reach our fundraising goal. Thank you to everyone that bought a bottle of Hi No Tori, to all of the friends and family that have supported us along the way, and to all of the new friends we've made. A very special thank you to every restaurant and wine shop who gave us a chance to share our story, and to Steve Matthiasson for lending us his wisdom and expertise. We never would have been able to do this without everyone's support. We could not have asked for a better start to our journey as a winery, and we are so excited for all of the new adventures and challenges ahead of us. We want to thank you all and invite you along with us for the ride. Just as the phoenix rises anew from the ashes, this is just the beginning for us.
出處:kanpai.wine